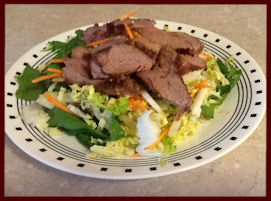 Naked Unadulterated Lamb Rump! B.B.Q, Baked or Pan fried - it's quick & easy 10 mins preparation & cooking. It doesn't matter how you serve it up, on a Salad as in Thai, on Cous Cous as in Greek or a favourite of Ozzies Lamb Roast & Veges!
Tender Australian Lamb Only needs a pinch of salt, quick cooking time, stand it for a few minutes so it retains the juice, then serve up! A little pink in the centre is perfect! The Unadulterated Delicious, Juicy Flavour will keep you savouring more....
It'll make the men put down their beers, the kids stop still in their tracks & the women can sit down & relax....
We can save our Greek Lamb Fillets, Marinated Italian Lamb Roast, North African Merquez Lamb Snags, Lamb Shanks & Diced Lamb for another day!
Remember you are eating Australian Bred & Raised Lamb! Straight from green pastures.. the most Organic food you'll find.